Invisible braces - helping you achieve the smile you have always dreamed of.
Invisalign is a great solution for straightening teeth and improving your smile. It is the clear, almost invisible and removable alternative to the traditional fixed metal braces that were once the only option to straighten teeth. Because invisalign is nearly invisible, it makes it the best alternative for metal braces.
How does Invisalign work?
A series of custom made clear aligners, embedded with technology tailored to each individual's own specifications, are worn over the teeth. They are changed every 1-2 weeks to the next aligner in the series. Each aligner will gradually move your teeth little by little, into a better position, ultimately to achieve improved alignment of your teeth. Your progress will be monitored closely to ensure the teeth are moving correctly.
For best results, aligners need to be worn for at least 20 hours per day (ie. full time). They are removed only whilst you eat, drink or brush your teeth. If the aligners are not on the teeth, they are not moving the teeth.
What can Invisalign help with?
Invisalign can help treat:
Crowded teeth: Crooked or crossed over teeth is usually due to a lack of space for the teeth in the jaw. Crowded teeth can be difficult to clean causing more tartar build up, staining and ultimately can cause gum disease and tooth decay. Crowding also naturally gets worse with age.
Gappy teeth: Mild spacing between teeth can be closed with invisalign.
Crossbite: Your upper and lower teeth may not cross over each other the way they should. This can be corrected with Invisalign.
Overbite/Underbite/Open Bite: These describe the way your front teeth bite together, either in an overclosed position, an under-closed or open position often causing functional issues alongside aesthetic concerns.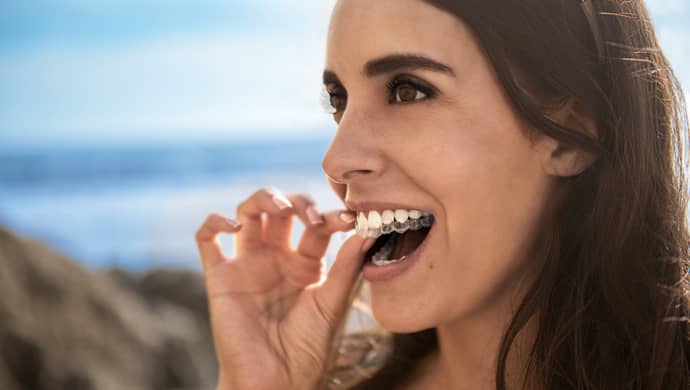 For more complicated problems, you may be more suitable for fixed braces. This can be discussed and a referral can be made to a specialist orthodontist should this be necessary.
Advantages of Invisalign
Just some of the benefits of Invisalign over traditional braces:
Almost invisible: The aligners are clear and are largely undetectable by others, perfect for professional adults with careers where conventional braces is just not acceptable.
Removable: One major benefit is the ability to remove the aligners to enable you to enjoy your favourite foods and drinks but also allow you to maintain good oral hygiene. Comfortable: The aligners are smooth and flexible, unlike the wires and brackets of fixed braces that can irritate your mouth.
Quick results: The technology behind invisible braces is highly advanced and often gives patients a reduced treatment time. Results can often be achieved in 6 months or less, depending on individual cases.
Digital Simulation: Using Invisalign's clincheck technology, you can view a digital simulation of what your teeth will look like at the end of treatment, before you even decide to go ahead.
Introducing our brand new iTero Machine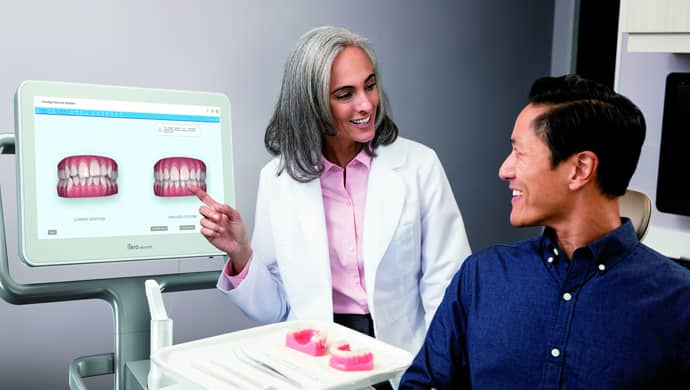 No impressions. No gagging.
COMFORTABLE
No mess with impression materials, no unpleasant taste or smell.
FAST
View 3D scans on screen immediately. Faster delivery time for treatment plan.
ACCURATE
Allows for precise fit of aligners or retainers.
Book your FREE consultation with Dr Elaine to discuss how Invisalign can help you.